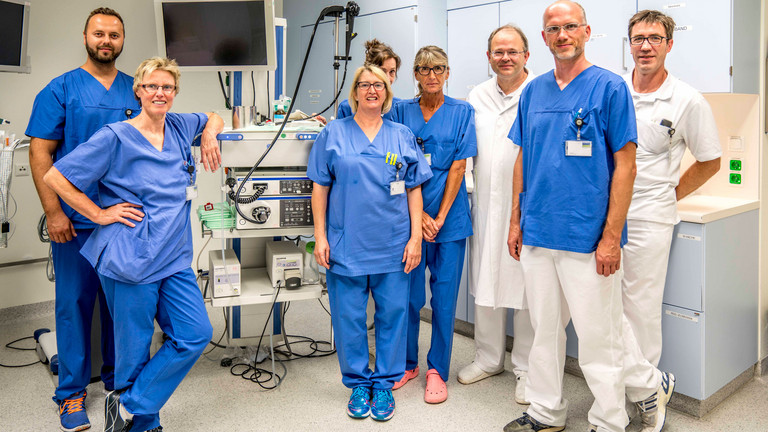 The Clinic of Internal Medicine treats around 4,500 patients in all areas of internal medicine every year with a special focus on gastroenterology/hepatology and oncology.
As a clinic emphasizing general internal medicine, it also diagnoses and treats large numbers of patients with lung diseases, infectious diseases, endocrinological diseases (e.g. diabetes, thyroid diseases), and as yet unclear disease patterns.
In visceral medicine, the clinic works especially closely with the Clinic of General, Visceral, and Tumor Surgery and our established oncology partners.
If you or your relatives need medical assistance, we would be pleased to welcome you to our clinic.
Diseases
Diseases of the gastrointestinal tract, liver, pancreas

Tumor disease (together with surgery)

Unclear symptoms and findings such as:

Weight loss

Anemia

Unclear fever

Unclear infections
Endoscopic procedures
Complete endoscopy

Gastroscopy

Ileocolonoscopy

Endosonography, radial and longitudinal

ERCP

Capsule endoscopy

Bronchoscopy
incl. all interventions

Hemostasis

Polypectomy

Papillotomy

Stone extraction

Stent

Full wall resections

Endoscopic submucosa section
Diagnosis
Ultrasound, including all modern procedures

Contrast-enhanced ultrasound

Elastography

Interventions

Hydrogen breath test

Computed tomography, including interventional procedures

MRI, including interventional procedures
Prof. Dr. med. Guntram Lock

Chief Physician, Internal Medicine