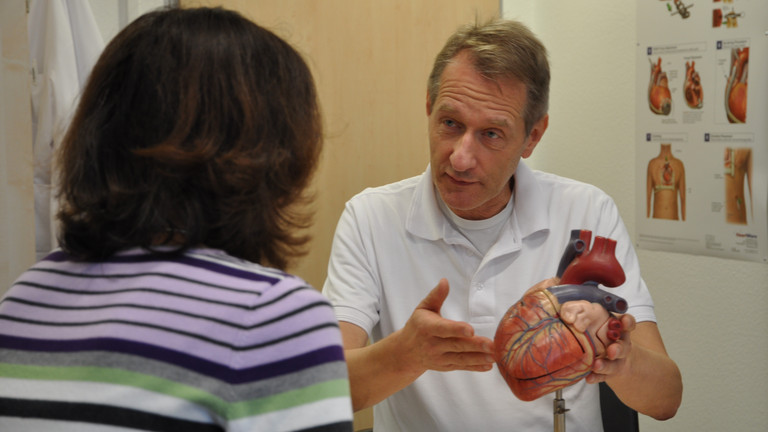 Heart Failure and Device Therapy
Our team offers comprehensive and highly specialized care of seriously ill heart failure patients with the aim of achieving a good quality of life at home and at work.
Your benefits range from receiving a cardiac device such as a pacemaker or defibrillator to receiving cardiac resynchronization treatment (CRT) or implantation of an artificial heart (LVAD – left ventricular assist device). In 2018, the Albertinen Heart and Vascular Center located at the Albertinen Hospital was certified as Hamburg's first "National Heart Failure Unit Center".
Diseases
Heart failure

Arrhythmia

Aftercare
Diagnosis
Spiroergometry

Sleep apnea measurements

Long-term ECG / Long-term blood pressure

Echocardiography

Myocardial biopsy

Cardiac MRI
Surgical methods
Pacemaker implantation: 1-chamber, 2-chamber, 3-chamber (CRT), wireless pacemaker ("leadless" pacer)

Defibrillator implantation: 1-chamber, 2-chamber, 3-chamber (CRT), subcutaneous defibrillator (S-ICD)

Electrode extraction (excimer laser)

Event recorder implantation

Breathing pacemaker

Baroreceptor stimulation

Cardiac contraction modulation (CCM)
Prof. Dr. med. Herbert Nägele

Management, Heart failure and device therapy