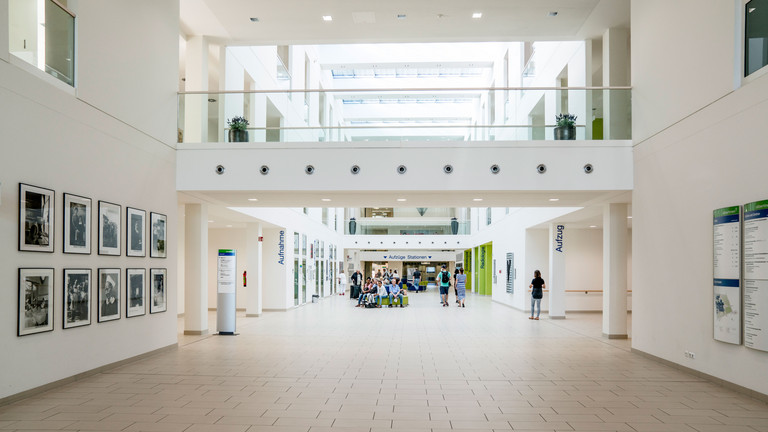 Albertinen International – a service of the Albertinen Hospital
The Albertinen Hospital/Albertinen Haus is the largest non-profit hospital in Hamburg with 732 beds. Every year, around 68,000 patients receive outpatient and inpatient care in the Academic Teaching Hospital of the Medical Faculty of the University of Hamburg.
Our doctors, nurses, therapists and many other professional groups are committed to combining high-performance and innovative medicine and care with personal attention on a daily basis.
The Albertinen Hospital offers a broad and highly-specialized range of services in a modern functional building: The Albertinen Cardiovascular Center is one of the leading institutions of its kind in Germany and specializes in open and interventional interventions on the heart, the treatment of cardiac arrhythmia and heart failure. Tumor diseases of the digestive tract, and gynecological and urological cancers are other treatment areas, as well as diseases of the musculoskeletal system and therapy of neurological diseases, a Stroke Unit, and neurological early rehabilitation. The Albertinen Birth Center with attached neonatal intensive care by the Altona Children's Hospital is one of the most popular obstetrics institutions in northern Germany with more than 3,000 births per year.
The Department of Internal Medicine, the Surgical Clinic, the Women's Clinic, the interdisciplinary approach of geriatric medicine with a Geriatric Clinic in the neighboring Albertinen Haus and the Central Emergency Department likewise stand for high professional expertise and dedicated medicine and care.
We are proud that both the medical and nursing competence and the human atmosphere in our company are repeatedly praised in patient surveys.
The Albertinen Hospital is an institution of the Immanuel Albertinen Diakonie. The Immanuel Albertinen Diakonie emerged in January 2019 from the merger of the Albertinen Diakoniewerk in Hamburg and the Immanuel Diakonie in Berlin. It provides bundled competences for people in challenging life situations.
Priv.-Doz. Dr. med. Michael Rosenkranz

Chief Physician, Neurology and Early Neurological Rehabilitation
Medical Director, Albertinen Hospital


Group Managing Director (Chair), Immanuel Albertinen Diakonie


Managing Director, Albertinen Hospital


Managing Director, Albertinen Services Hamburg
Managing Director, Albertinen Haus


Nursing Director, Albertinen Hospital