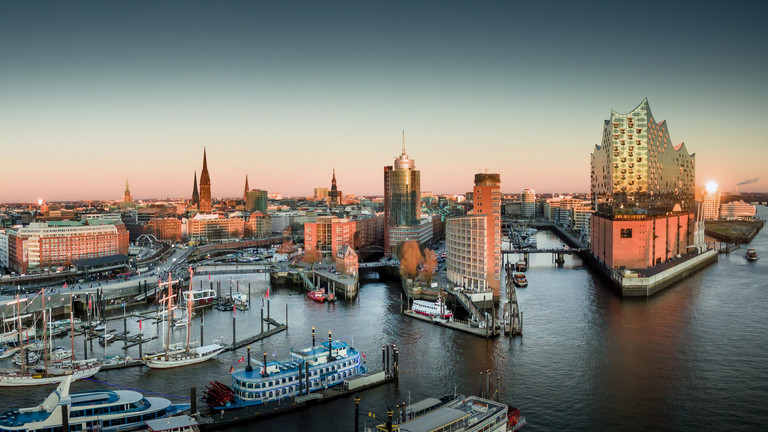 The maritime metropolis is always worth a trip
Hamburg – the gateway to the world
Hamburg is located in northern Germany and has about 1.9 million inhabitants. It is the second largest city in Germany after Berlin. The Port of Hamburg is one of the largest transshipment ports in the world and, together with the international airport, makes Hamburg one of the most important logistics locations in Europe, and a highly cosmopolitan city. In Germany, people refer to Hamburg as "the gateway to the world".
Sights and cultural highlights
Hamburg belongs to the group of cities with the highest quality of life in the world, and therefore attracts numerous international tourists. The city center is characterized by the Alster River, which is divided into the larger Outer Alster and the smaller Binnenalster that encloses the historic core of the city. With about 2,500 bridges, the city is considered one of the most bridge-rich cities in Europe. Well-known cultural monuments and landmarks include the Speicherstadt and the neighboring Kontorhausviertel, which have been part of the UNESCO World Heritage Site since 2015, the Elbphilharmonie concert hall (opened in 2017) and the Hamburg City Hall. The many clinker facades are typical of the cityscape, as well as the proximity of water with numerous rivers, dikes, and canals.
Shopping and gastronomy
Hamburg's city center has one of the most attractive shopping streets in Germany. In addition to international luxury brands, there are also many owner-managed, traditional shops. Hamburg is also home to about 60 museums. These include seven state museums with additional outposts, as well as numerous private museums and collections. And Hamburg is one of the most important musical destinations on the European continent. Hamburg's cuisine also has a lot to offer – from traditional fish rolls to a visit to the Michelin-starred restaurants, you can let your palate be pampered in many different ways.
Hamburg – an international center
Hamburg is an important center of industry, trade, and logistics, and of great importance for Germany's foreign trade. Many international companies have brought people from 180 different nations to live and work in Hamburg. Hamburg is the second largest consular location in the world after New York with 90 consulates.